Persivia, Inc to exhibit at The Independent Physician Association of America's TIPAAA Annual National Meeting
Persivia, Inc will be exhibiting at TIPAAA's 26th Annual National Meeting at Harrah's Hotel & Casino in New Orleans, LA March 28-30, 2018, booth 219 & 118.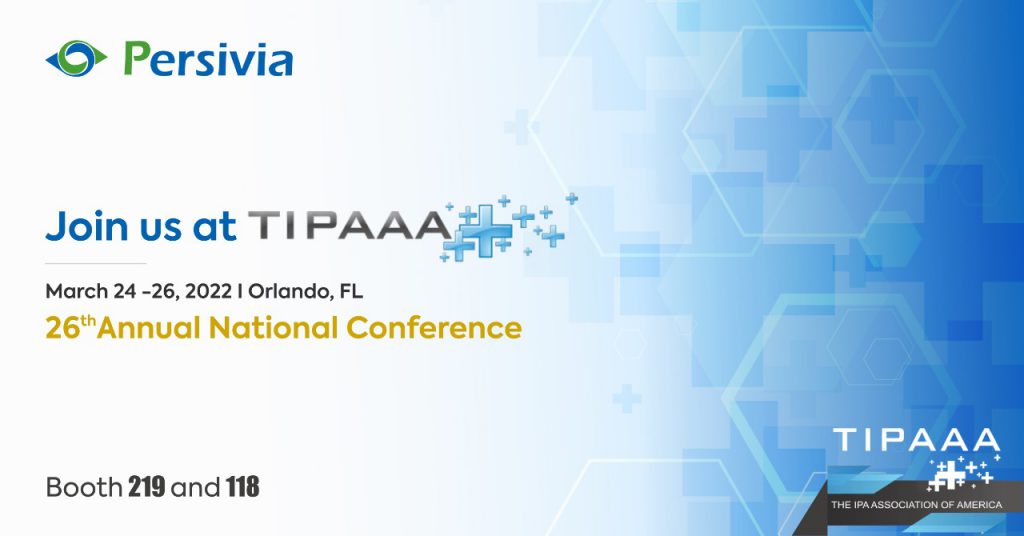 TIPAAA Annual National Meeting
Location: Harrah's Hotel & Casino, New Orleans, LA
Date: March 28, 2018 – March 30, 2018
To register, visit: Here
About Persivia, Inc.
Persivia enables hospitals, practices, payers, public health agencies, and EHRs to manage multiple value-based care models across all available datasets to arrive at insights in real time, personalized at the point of care. Our first-of-its-kind single platform solution, CareSpace®, follows a patient from admission through post-acute stays and into the home. Powered by our Soliton® AI engine, CareSpace®, integrates disjointed legacy systems to help align incentives across multiple reimbursement models. For health systems and providers, we help improve care delivery and quality scores through AI driven workflows and pathways to create personalized care programs, optimize risk adjustment and member prioritization at the point of care, both in person and virtually.
Contact Persivia
Email: info@persivia.com
Call now: 978-856-4600